Hyundai wreckers melbourne
Cash up to $9,999 for Any Scrap, Used or Unwanted Hyundai Vehicles – Free Removal – Used Hyundai Auto Parts.
Give less and gain more in return with Hyundai Wreckers Melbourne
Selling your Hyundai car quickly is simple and easy with Hyundai Wreckers Melbourne. We offer a straight and straightforward process that is quick and easy to use. Hyundai Wreckers Melbourne provides you the possibility to sell any model Hyundai, regardless of how many KM's it has completed and irrespective of its condition. We will buy it from you for cash. At Hyundai Wreckers we have a different motto: One man's trash is another man's treasure.
Interested in selling your used Hyundai car? Please give us a call during the business week to speak with an expert.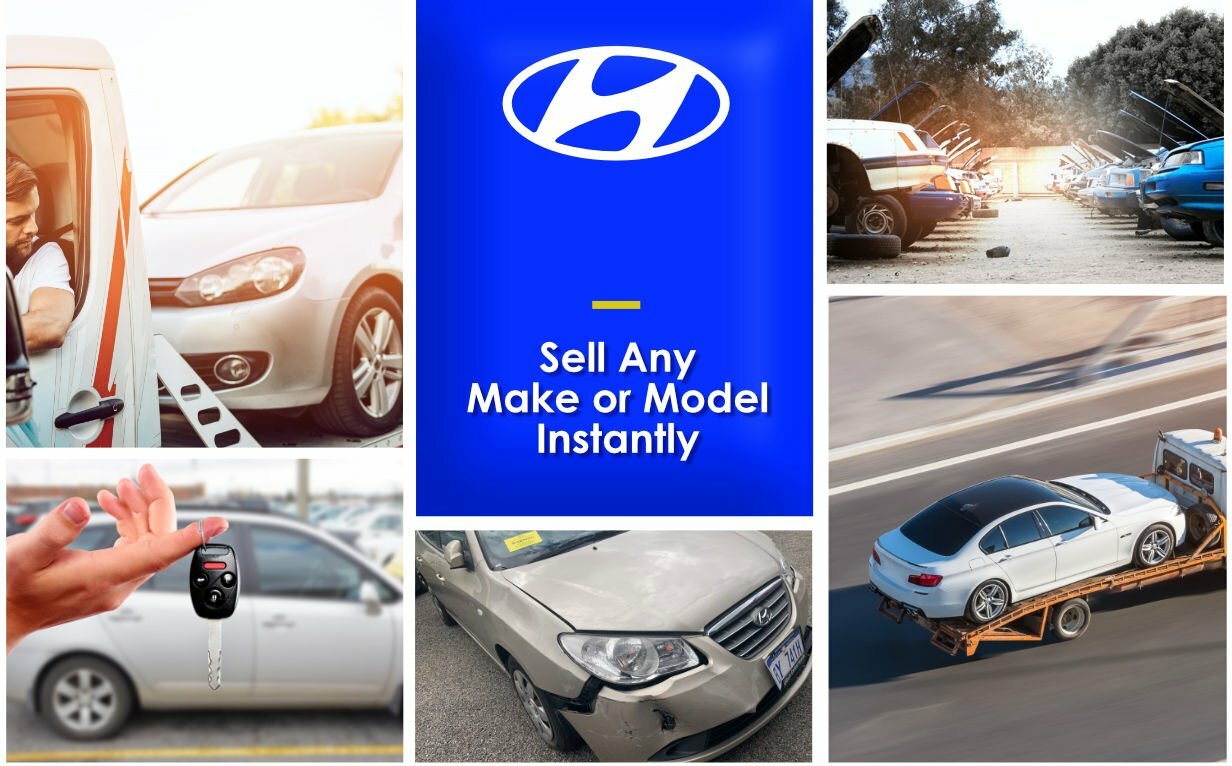 Why Choose Hyundai Wreckers Melbourne?
The Hyundai brand is one of the most popular and well-reputed names internationally. It is famous for its design and innovation. The brand has maintained excellent credibility and consumer appeal. Reselling the Hyundai parts is smooth and trouble-free. This makes it simple for us to propose a top-price compensation to our dealers. Any Hyundai brand trade-in will get you up to $9,999 without any issues or hidden costs.
Free Removal service for your hyundai vehicle
If you are skeptical about this arrangement and it sounds too good to be true. Then worry not! We do what we say, Hyundai Wreckers Melbourne has a use for all the Hyundai models, irrespective of their age, condition, or status. We will buy any Hyundai car no matter whether it's 1980 model or a sedan from 2016. We make use of most the vehicles that our customers offer and pickup your Hyundai vehicle quickly.
Give Us A Call Today – Our Easy Process!
The current economy is making all of us struggle in our lives to keep ourselves financially sound. We all face a time when money plays a vital role in many of our decisions and pulls us back from things that we want? Hyundai Wreckers Melbourne is aware of these concerns, and we would love to deal with you and make sure you experience a sustaining business contract with a reputable car trading company who can make your struggles easy. Call our friendly team and get top cash without any hidden charges. Our knowledgeable Hyundai specialists will be happy to assist you through this swift and straightforward process of removing your Hyundai vehicles.
Sell Any Make or Model – Sedan's Hatch or Van
| | | |
| --- | --- | --- |
| Hyundai Accent | Hyundai Elantra | Hyundai Elantra |
| Hyundai Lavita | Hyundai Excel | Hyundai Genesis |
| Hyundai Getz | Hyundai Grandeur | Hyundai i20 |
| Hyundai i30 | Hyundai i40 | Hyundai i45 |
| Hyundai iLoad | Hyundai iMax | Hyundai ix35 |
| Hyundai Kona | Hyundai Lantra | Hyundai Nexo |
| Hyundai Santa Fe | Hyundai Sonata | Hyundai Terracan |
| Hyundai Tiburon | Hyundai Trajet | Hyundai Tucson |
| Hyundai Veloster | | |
Why We Want Your Hyundai Vehicle?
Why are we so eager to buy so many junk cars? Hyundai Wreckers Melbourne is a disassembling service. Vehicle disassembles take apart trucks, sedans, vans, and vehicles and separate the parts from the broken or dysfunctional component, then crush the remaining and sell it for scrap metal. We are Hyundai car parts recycler who works according to the customer's salvage requirements. We are honest about our dealership, most of the Hyundai vehicles we have dealt with, have been in some accident, Hyundai Wreckers Melbourne has still been able to extract usable parts from them and sell them to interested clients.
Used Auto Hyundai Parts
We sell Hyundai spare parts for any Hyundai model. Visit our wrecker yard or simply call us for your auto parts requests.
| | |
| --- | --- |
| Body panels | Doors |
| Hoods | Fenders |
| Seats | Alternators |
| Headlights | Fuel system parts |
| Taillights | Control Modules |
| Bumpers | Shocks and struts |
| Stereo Equipment | Tire and rims |
| Brake parts | |
Sell your old hyundai the easy way
We are proud to say that we can see from our client's perspective. This is why Hyundai Wreckers Melbourne is one of Australia's leading car trade services. We have developed a straightforward process for those who are stuck with their unwanted Hyundai trucks, vans, or cars.
Give us a call!
When you call us, you will relate to our expert consultant who will be providing you with ample of information you need to deal with us in a hassle-free manner. Your inquiry will always get you a free quote. So, keep your license number ready.
Schedule an Appointment!
Once we have given you a final quote, you will be able to book a time for us to pick up your vehicle. Ensure that before our experts come to pick up the car, you remove all your belongings or any critical piece of the car, van or truck.
Cash payment straight away!
It is as simple as 1-2-3. Once we complete all the paperwork for you and collect your car, we will pay you cash right there. No bank payments! Don't worry – we will take care of all the details and paperwork, so you don't have to worry about it.
We also facilitate our clients with same-day service and flexible scheduling for our busy clients.
Don't leave your old, wrecked, and unwanted Hyundai to languish in your garage or outside? Give us a call, schedule a meeting, and let us pay you for something you no longer want to use.